Driver Sense is Cipia's (formerly Eyesight Technologies) software-based driver monitoring system (DMS) for OEMs and Tier 1s. Cipia is a leading computer vision and AI provider, powering in-cabin sensing solutions for the automotive industry. Cipia's Driver Sense focuses on the driver, identifying and monitoring visual attributes in real-time to determine his/her state and actions.
Flexibility and Unique offerings
Driver Sense is integrated into production programs in three main ways, designed to address the specific production program's needs.
Lowest total system cost compliance with European safety standard and regulations
Cipia's lean hardware requirements for processing and sensor are ported on low-end cost-effective processors which enable full compliance. The integration provides an optimal solution for existing models which require minimal modifications, as well as for lower-end models focused on cost-effective DMS.
Driver Sense pre-integrated on Mobileye EyeQ
Cost saving vs. dedicated DMS ECU
Hosted on ASIL B rated SoC
Pre-integrated – saving time and cost
One stop shop ADAS and DMS solution
Leveraging lean hardware requirements for integration on the infotainment SoC
Employs existing shared hardware resources
Available for integration on popular SoCs
Enables advanced HMI functions
The core of Cipia's solutions is based on advanced, proprietary computer vision and artificial intelligence (AI). Driver Sense is built of two layers, providing flexibility for embedding in partner systems. At its core, Driver Sense utilizes computer vision algorithms to track and report in real-time visual attributes, associated with the driver. We built a second logic layer which analyzes the data provided from the first layer into physiological conclusions of the driver's state. The logic layer is based on extensive research and testing, in which the relationship between visual facial cues, drowsiness and distraction was proven. Our driver logic detects the earliest stages of drowsiness, enabling life-saving mechanisms to intelligently react in real-time.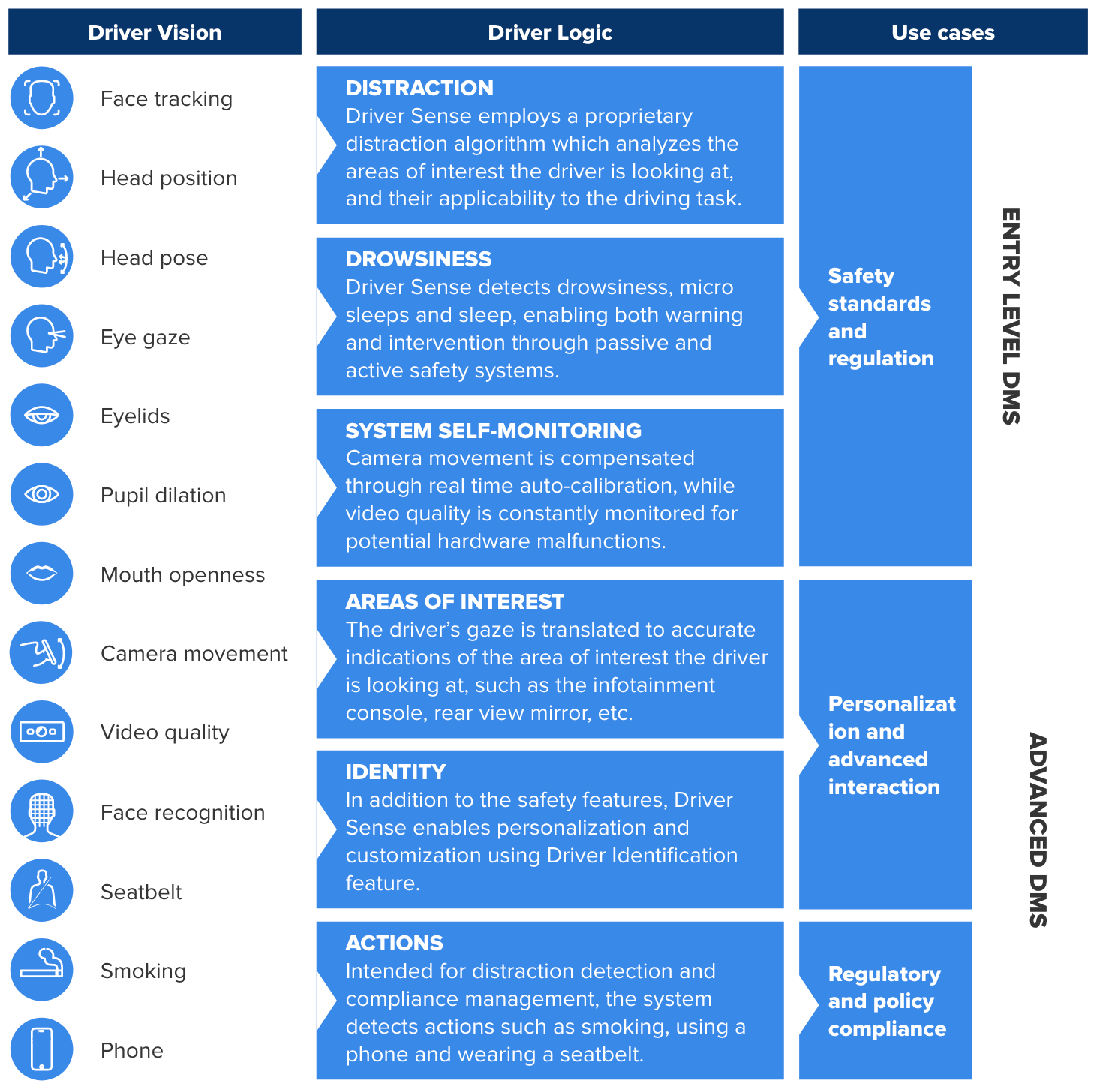 Watch Driver Sense in action