Further to the company's July 3 announcement of its first design win with a European OEM, Cipia has been informed that the win will include seven additional models
TEL AVIV, Israel, 20 July 2023 — Cipia (TASE: CPIA), an AI computer vision in-cabin automotive solutions provider, today announced that following the company's July 3, 2023 announcement of its first design win with a European OEM, it can now confirm that the award covers eight different car models. Cipia will implement its Driver Sense driver monitoring system (DMS) in all eight models, which will be sold in Europe. One of the car models will start production during 2024; the SOP for the other models is not yet confirmed.
From July 2026, all new cars registered in the European Union will be required to include a distraction and drowsiness monitoring system installed in the vehicle, spurring European automakers to incorporate such systems in their new models.
Cipia's market leading technology uses computer vision and AI to monitor a driver's state in real time, by tracking head pose, direction of gaze, driver position and actions to determine if the driver is focused on the road, distracted or drowsy, holding a phone while driving and more.
A month ago, Cipia announced that a leading global OEM has started production on three car models that will integrate Cipia's Driver Sense driver monitoring system. The three vehicles are being produced for the global market, including the USA.
With this design win, Cipia has reached 40 design wins, over 12 platforms, across 8 car manufacturers.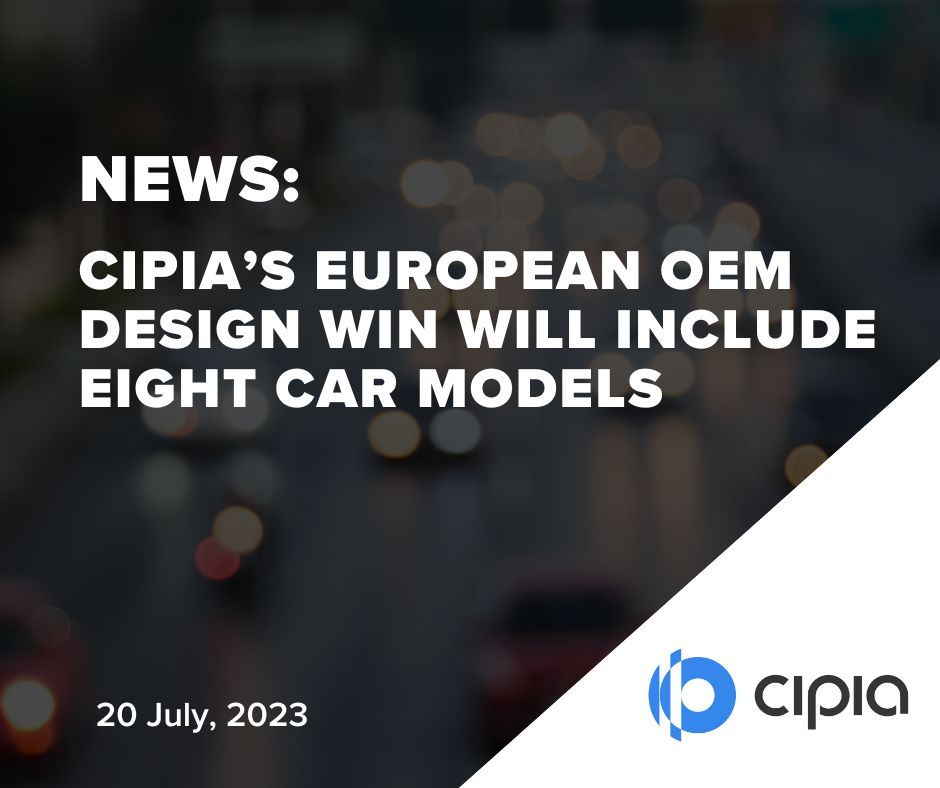 ###
About Cipia:
Cipia is a leading provider of intelligent sensing solutions that use edge-based computer vision and AI for safer and better mobility experiences. The company's product lineup includes Driver Sense (driver monitoring system), Cabin Sense (occupancy monitoring system) and Cipia-FS10, a complete video telematics and a driver monitoring solution for telematics service providers and fleets.
Over a decade of research and development stand behind the company's proprietary market-leading computer vision technology, which has been selected by OEMs globally and serves vehicles on the roads today.
To date, Cipia holds 40 design wins, over 12 platforms, across 8 car manufacturers. Cipia's OEM customers currently include two electric car manufacturers in the US, a European OEM. SAIC Motors, Chery, an American car brand in China, and additional car manufacturers in China.