TEL AVIV, Israel, 17 April 2023 — Cipia (TASE: CPIA), an AI computer vision in-cabin automotive solutions provider, today announced the release of Cipia-FS10 Plus, the next generation of its Cipia-FS10 advanced video telematics device specifically designed for fleets. The Cipia-FS10 Plus offers Cipia's AI-based driver monitoring system (DMS), and now, a new optional road-facing camera.
With the road-facing camera, telematics service providers and fleets using the Cipia-FS10 Plus benefit from:
Dashcam video recording, providing footage of the road ahead.
Capture of road-facing snapshots or footage at the time of a detected DMS in-cabin event.
When integrated with an external ADAS device, the Cipia-FS10 Plus can correlate and communicate detected ADAS events with road-facing footage and in-cabin driver footage, for a complete event analysis.
Yehuda Holtzman, CEO of Cipia, said "The Cipia-FS10 Plus with Cipia's AI fleet telematics solution helps manage safe, effective road fleets — by both alerting drivers to prevent incidents and by giving fleet managers valuable data to improve performance and logistics."
Cipia-FS10 Plus features a hybrid communications mode: videos and snapshot images can be sent to the fleet management system (FMS) immediately using cellular data or held locally in the vehicle until secure Wi-Fi is available. Hybrid mode can reduce data usage by up to 90%, a significant cost saving.
The in-cabin sensor of the Cipia-FS10 Plus enables detection of driver drowsiness, distraction, seatbelt usage, smoking, and holding a phone while driving, providing real-time alerts to the driver. The system also offers driver recognition of enrolled drivers. In parallel to driver alerts, Cipia-FS10 Plus delivers tailored fleet manager alerts and insights via the existing fleet management server.
The device's DMS is powered by Cipia's computer vision AI software. This technology has been selected by carmakers (OEMs) worldwide due to its high quality, robustness, low rate of false alerts, and compliance with demanding automotive standards. Cipia's technology is deployed in vehicles on the roads today.
To learn more about Cipia-FS10 Plus visit: https://FS10.cipia.com/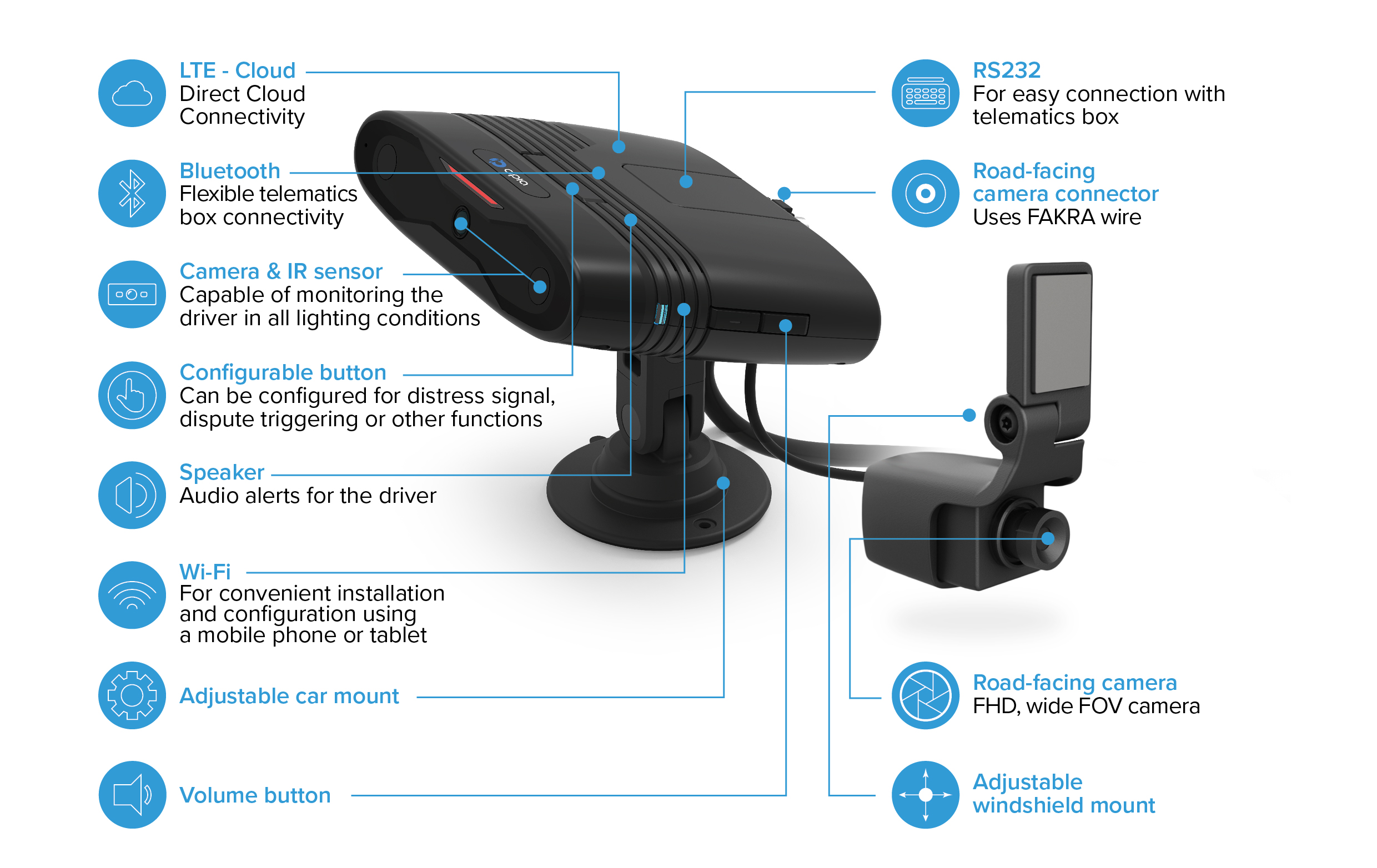 About Cipia:
Cipia is a leading provider of intelligent sensing solutions that use edge-based computer vision and AI for safer and better mobility experiences. The company's product lineup includes Driver Sense (driver monitoring system), Cabin Sense (occupancy monitoring system) and the Cipia-FS10 line of complete video telematics and driver monitoring solutions for telematics service providers and fleets.
Over a decade of research and development stand behind the company's proprietary market-leading computer vision technology, which has been selected by OEMs globally and serves vehicles on the roads today.
To date, Cipia holds 32 design wins, over 11 platforms, across 7 car manufacturers. Cipia's OEM customers currently include two electric car manufacturers in the US, SAIC Motors, Chery, an American car brand in China, and one additional leading car manufacturer in China.